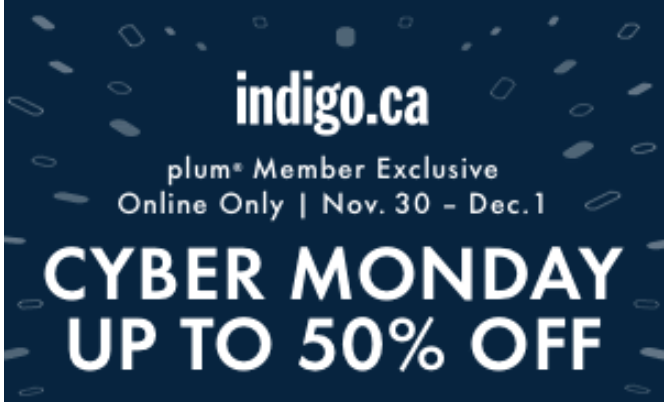 Indigo Canada is offering Plum Members Exclusive Cyber Monday Sale! Now you can save up to 50% Off almost everything Online Only! Here are the deals:
Plum Member Exclusive Cyber Monday Deals:
15% Off American Girl
plum 40% off the Best Books of the Season
40% off Hottest Kids' Books of the Season (Ends Dec 1)
Up to 40% Off Select Toys
Up to 40% Off Arts & Crafts
plum 25% off Snuggle Me Organics
plum 20% off SNOO
plum 40% off Select Seasonal Decor
plum 40% off Scarves, Wraps & Cold Weather Acc.
plum 40% off all Love & Lore Supersoft Scarves
plum 40% off Reg. Price Indigo Reading Socks™
plum 40% off all Indigo Men's Eco Scarves
plum 30% off Hatley x Indigo Fam Jam Pajamas
plum $50 off Indigo Weighted Heated Blanket
plum 40% off Select Seasonal Decor
plum 40% off Pillows & Throws
plum 30% off Select Candles
plum 40% off Select Stocking Stuffers
plum 40% off Select Moleskine & Leuchtturm1917
plum 40% off Agendas & Calendars
plum 25% off Water Bottles
plum 40% off Mugs and Hot Cocoa
plum 25% off Select Sports Books
plum 40% off Select Boxed Sets
plum 25% off Staff Picks Of the Month
plum 25% off the Best Books of 2020
plum 25% off Heather's Picks
plum $20 off LEGO Super Mario Starter Course
plum 25% Off Select Face Masks
plum 25% off Favourite Kitchen Brands
plum 40% off Monogram Stationery
plum 40% off Holiday Paper Collections
plum 30% off Party and Wedding Decor
plum 50% off Freshly Picked Diaper Bags
plum 30% off Love & Lore Bags & Accessories
Up to 50% Off Top Tech Gifts
25% off Heather's Kids' Book Picks
50% Off Winter Garden Journals
25% Off Best Kid's Books of 2020
Cyber Mobday Deals
Up to 30% Off Matt and Nat
25% off Comotomo
20% off Medela
30% off all Graphic Novels & Dungeons/Dragons
30% off all Cookbooks
25% off Our Favourite Coffee Brands
$20 off Steamery Fabric Shavers
$30 off Steamery Steamer
25% off Halo Bassinests
$100 off Cybex Car Seats & GB Pockit
25% off Jetkids by Stokke
$50 off Theragun Mini
$75 off Theragun Prime
$100 off Theragun Elite
25% OFF OSMO
20% off Bugaboo Lynx Strollers
$30 off Kobo Forma
$20 off Kobo Libra
$30 off Kobo Clara
Up to $50 off Nomi High Chairs & Accessories
25% off Babyzen Strollers & Accessories
20% off UPPAbaby Cruz V2
20% off Lassig Diaper Bags
30% off Select Maxi-Cosi
20% off Hamilton Strollers
20% off All Nanit
15% off Valcobaby
25% off Beaba
Indigo Cyber Monday Sale is available Online Only until December 1, 2020.