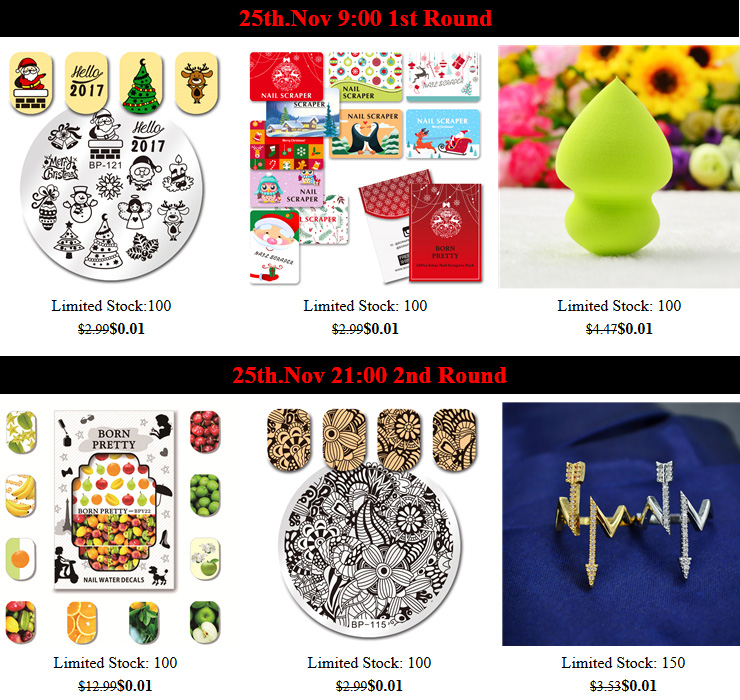 If you are looking to spend less, not more on Black Friday and love beauty, be sure to check out the Black Friday sale from the Born Pretty Store.  Not only do they have up to 80% off their top 80 products but almost everything in the store is on sale.
On top of that, similar to their anniversary sale, they will have 1 cent items available in limited quantities as well as some deeply discounted door crashers available at 10am ET and 10pm ET.
Items available at 10am include a Christmas themed stamping plate, nail stamping scraper card an a makeup sponge for only 1 cent each.  Choose between liquid latex or a clear jelly stamper for just $0.99 each or their pretty holographic polish for $1.99.
If you are shopping tonight they have more non nail themed items available at 10pm.  1 cent items include fruit themed nail decal stickers, a floral nail stamping plate or an adjustable ring. Spend a little more and get an owl themed silver necklace for $0.59 or choose between a Japanese floral stamping plate or long lasting matte lipstick for $0.99 each.
Shop the full selection of Black Friday items and save $6 off a purchase of $25 or more with coupon code BF25 or if you go a little crazy, enter BF60 to save $15 when you spend $60.  All orders over $60 will get a free gift worth $10 but if you only want a few small items, enter HNEX31 to make your own sale on any non discounted items.
Good luck snagging your 1 cent items.  All orders will ship free but they do take about a month to reach Canada.  You can find these door crashers here.  Add them to your cart & refresh when the clock counts down to save time and increase your chances as quantities are limited.