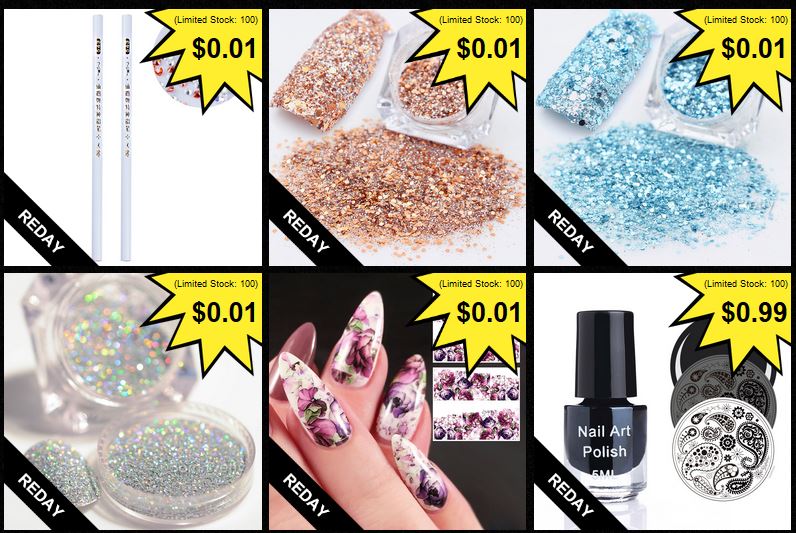 I know this was a popular ones last year but some warnings.  Born Pretty ships from Asia and have terribly slow shipping to Canada.  They say they ship in 24 hours, but a week is more likely then another week to Canada.  Once here, they seem to sit in Customs forever or their tracking is highly off.  Either way, expect to wait 6-8 weeks for your package to arrive and celebrate if it comes early.
As with last year, Born Pretty is getting in on the Black Friday game with 1 cent specials with limited quantities and free shipping on all orders.  On top of that, choose from lots of beauty supplies, nail art and phone cases along with random other items at deep discounts.  Considering their prices are already super cheap, this works out well for me.
They will have three rounds of doorbuster deals with up to 9 nail related items priced at either 1 cent or $0.99.  The first at 10am Eastern on Black Friday, the second at 9pm on Black Friday for those who were out shopping and missed the morning one.
At 1am on Black Friday, they will also have a Christmas item sale with twenty Christmas related items at amazing prices.  If you have ever wanted to try nail stamping, their starter kit will be $11.99 and includes 5 stamping polishes, 3 stamping plates, a stamper and scraper – everything you need to get started.
See the deals and countdown clocks for the deals here.  If anything you want from the store is not on sale, enter HNEX31 to save 10% at checkout too.